The Fier is one of the most important rivers in the Haute-Savoie region.
Just 10 km from Annecy, the river has carved out one of the most magnificent examples of erosion by running water, the Gorges du Fier, considered to be one of the natural wonders of the Alps.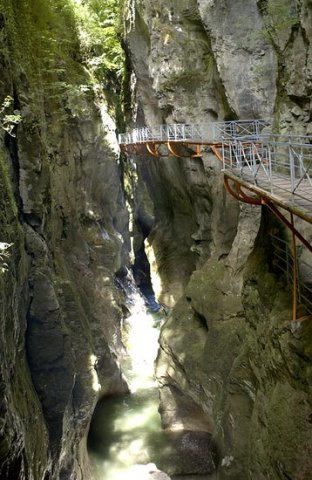 The footbridge
Venture deep into the giant gorge with the River Fier flowing at its base, and stop to admire the boulders stacked up high in all their shapes and forms. The play of light and shadow makes extraordinary faces appear along the length of the rock face...
Discover a multitude of Giants' Kettles carved out by the river over thousands of years.
Halfway along the footbridge, a measuring scale on the rock face indicates the water levels reached in times of flood.
La "Clairière des Curieux"
At the end of the canyon, a few steps take you to a dedicated display area with information on:
the geographic location of the River Fier and the Gorges du Fier
the geological characteristics of the Gorges
special attractions (Giants' Kettles – free-standing boulders – Joints in the strata – Kamenitzas – Niches caused by convection currents – Tuff etc.)
the water cycle

ImagiFier
Moments images ... images for a few moments
Between Imagination and Ephemeral Discover our Imagi...Fier
The tales Island
At the "Mer des Rochers", pause a while to read the tale of Diane, the knight and the page boy. The story took place many years ago, in the time of rivalry between lords...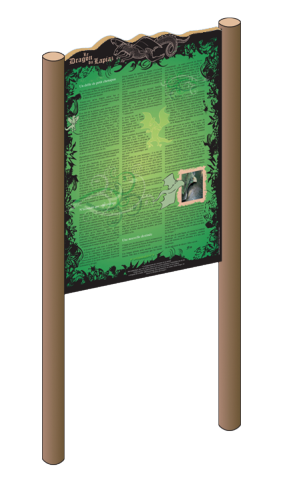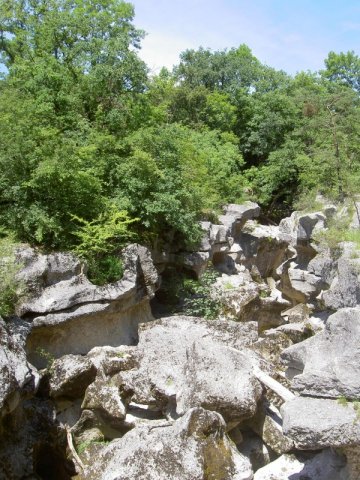 La Mer des Rochers
The "Mer des Rochers" is a vast lapies (a labyrinth of fissured rock, through which the River Fier gently flows).
Some of the geological attractions presented in the "Clairière des Curieux" are clearly visible (niches caused by convection currents, Kamenitzas, chaotic boulders etc.).
And to conclude your visit
At the end of your visit, a display room will provide you with information on:
The key historical events in this region from 1860 to the present day
Photos of the river in flood and the impact this has on our site